Posted by: AGelbert
« on: September 21, 2018, 10:24:07 pm »
Japan's Typhoon Jebi Demonstrates the Vulnerability of Airports to Storm Surge
Dr. Jeff Masters · September 21, 2018, 12:19 PM EDT
SNIPPET 1:
Above: Kansai International Airport on September 4, 2018, after Typhoon Jebi's storm surge inundated one runway and flooded Terminal 1. Image credit: Kentaro Ikushima/Mainichi Newspaper via AP.
In a stunning demonstration of the destructive potential of typhoon storm surge—and the human propensity to under-engineer infrastructure designed to withstand the worst nature has to offer—Japan's third busiest airport, Kansai International Airport in Osaka Bay, was inundated by Category 2 Typhoon Jebi's storm surge on September 4, 2018. The surge flooded one runway, closing it for ten days, and damaged electrical facilities in one of the airport's two terminals, forcing its closure for seventeen days. The airport was fully open today for the first time since the disaster. The last time a typhoon of similar size and strength hit Osaka Bay was in 1961: Typhoon Nancy, which made landfall as a Category 2 storm with 100 mph winds.
SNIPPET 2: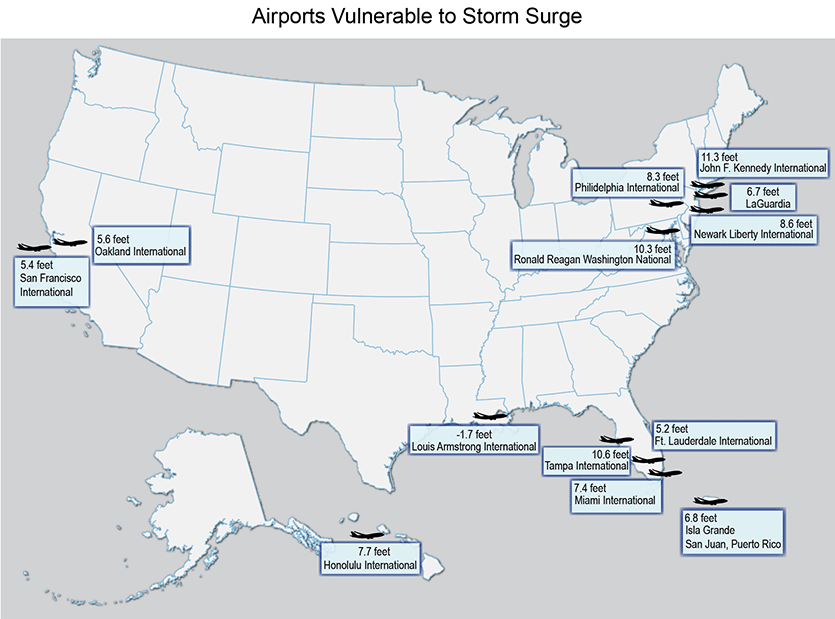 Figure 4. According to the National Climate Assessment, 13 of the 47 largest airports in the U.S. have at least one runway with an elevation within 12 feet of current sea levels, and are vulnerable to flooding from a moderate to high storm surge.
Climate change will

increase storm surge 🌊 inundation

of airports
As sea level rises due to human-caused climate change in coming decades, there will be a notable increase in frequency of airports being flooded by storm surges—particularly if there is a sharp increase in the frequency and intensity of the strongest hurricanes and typhoons, as predicted by theory and computer modeling. The problem may be particularly acute for Japan, Korea, and northeastern China, since the latitude where western North Pacific typhoons reach their peak intensity has migrated poleward over the past 70 years.
Full article with revealing graphics and dramatic videos:
https://www.wunderground.com/cat6/Japans-Typhoon-Jebi-Demonstrates-Vulnerability-Airports-Storm-Surge