Posted by: AGelbert
« on: August 15, 2017, 01:23:21 pm »
Continued from the previous post on this thread:
Parable no. 4 ( Matthew 13:33) about the hidden yeast represents the subtle influence of evil (the yeast) in the bread. In spite of the onfluence of the yeast, the bread is still useful for feeding and nourishment.
The metaphor of bread containing yeast (
notice that leavened bread grows LARGE while unleavened bread does not
) represents the Church influenced by evil.
Some use this parable to justify pointing at the mainstream nominally Christan Church as the tainted, but still most important, source of the spiritual food and strength of Christ in the world. That is an erroneous,
and altogether too modern mainstream church self serving
, assumption. This parable clearly points to a remnant within, but by no means excluding the remnant without, the Church that together constitutes the
Spiritual Body of Christ
(i.e.
Christ's Church
on earth
). The tremendous expansion of bread when it contains yeast is a metaphor for the secularization of the Christian Church. Christ never meant His Church to wield organizational power. Bigness is unnatural in the kingdom of God but Christ told us what to expect.
The Body of Christ is certainly not limited to the organized Church.
In fact, in these dark times, I believe a
greater part of the Body of Christ exists outside
the organized Church "bread" hampered by the
evil
"yeast" than
within it.
Christ did not actually used the word "mix" in regard to the yeast; He used the word (when translated to Greek) "krypto", which means, "to hide or conceal".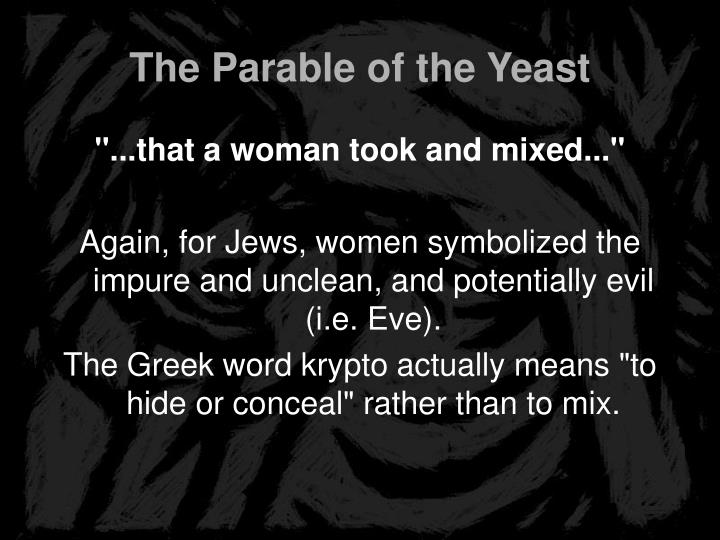 If you are in a Church where the yeast has taken over, I am certain that Christ does not want you there. These churches prosper economically, grow massively and gain respect and approval from the secular government they serve.
If you can manage to not get thrown out, even when you call out the behavior of the "yeast" in that Church, then stay. But if you are coerced to applaud a corrupted, prospertiy preaching, war loving, flag worshipping Orwellian version of Christ's teachings (
by remaining silent before organizational church false doctrine
), staying puts your Salvation in jeopardy.
The people in those yeast leavened organizational churches have gained the world, only to lose their soul. Tell them why you are leaving, pray for them and flee!
Continued tomorrow