Posted by: AGelbert
« on: September 24, 2018, 02:04:37 pm »
Agelbert NOTE:
Please observe that the massive, deadly, pollution spreading flooding caused by Hurricane Florence rains is still wreaking havoc OVER A WEEK AFTER HURRICANE FLORENCE MOVED AWAY FROM the Carolinas. 👀
😟
Catastrophic Climate Change
, compliments of the
Hydrocarbon Hellspawn 🐉🦕🦖 Fossil Fuel Fascists
, IS HERE NOW!
Make Nexus Hot News part of your morning: click

here

to subscribe.
September 24, 2018
Flooding from Sutton Lake has washed away part of U.S. 421 in New Hanover County just south of the Pender County line in Wilmington, N.C., Friday, Sept. 21, 2018. (Matt Born /The Star-News via AP) (Associated Press)
'We Need Federal & State Help:'
The Carolinas are continuing to be battered by the aftereffects of Hurricane Florence more than a week after the storm made landfall, as deadly floodwaters pose serious threats in the region. At least 42 people have died as a result of the storm thus far, while thousands have been rescued and thousands more remain in shelters.
Still-rising rivers across the Carolinas
are prompting warnings and evacuations early this week, and the National Weather Service reports that five river gauges in North Carolina were still at "major flood stage" over the weekend.

"It's just a mess," Lawson Batter, mayor of Nichols, SC, told the AP. "We will try everything we can to come back ... but we need to have federal and state help."
https://www.washingtonpost.com/national/when-will-it-end-florences-floodwaters-rising-in-carolinas/2018/09/21/7b896658-be02-11e8-8243-f3ae9c99658a_story.html
https://www.reuters.com/article/us-storm-florence/you-better-pray-more-flooding-in-carolinas-a-week-after-florence-idUSKCN1LX126
September 24, 2018
Duke's Growing

Coal Ash Crisis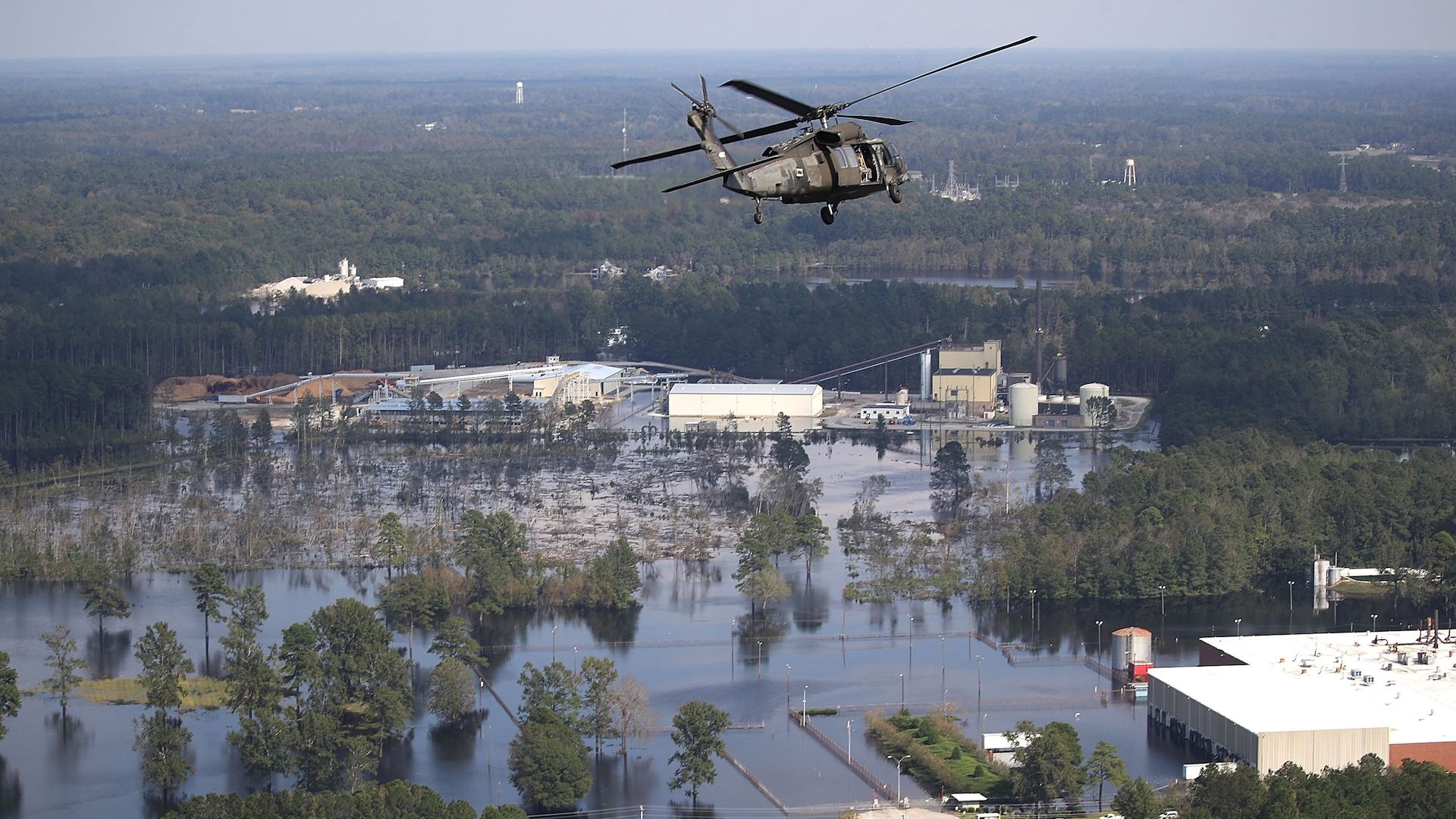 A U.S. Army helicopter flies over homes and businesses flooded by heavy rains from Hurricane Florence. Photo: Joe Raedle/Getty Images
A new breach in a coal ash pit at a power plant near Wilmington, North Carolina could be causing ash to spill into the nearby Cape Fear River, plant owner Duke Energy said Friday.
The incident is the second large breach
at this plant caused by floodwaters from Hurricane Florence, after earlier damage to a coal ash pit caused 150 dump trucks' worth of ash to spill into a nearby lake, and Duke has shut down the power plant in response to the latest breach.
The company said Sunday that expedited tests show "little to no impact to river water quality,"
but the state has not released results from its own testing and
advocates warn that Duke used in-house labs
for its analysis.
Video taken by Earthjustice and provided to the AP shows gray film lining the banks of the river.
https://www.axios.com/duke-energy-plant-coal-ash-hurricane-florence-4dadbb41-2820-4ecb-8554-9f6445a7a89d.html
https://www.reuters.com/article/us-storm-florence-duke-energy/duke-shuts-natgas-plant-due-to-florence-floods-coal-ash-leak-feared-idUSKCN1M126U
https://www.bradenton.com/latest-news/article218885475.html
Commentary:
https://climatenexus.us4.list-manage.com/track/click?u=d1f5797e59060083034310930&id=b4f28bee40&e=0fd17c5b57