Posted by: AGelbert
« on: April 23, 2018, 04:39:01 pm »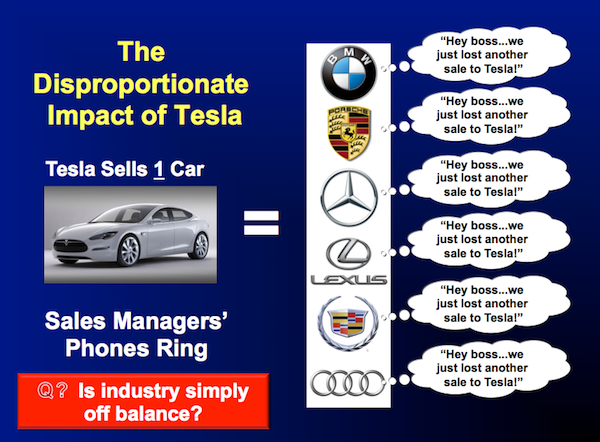 Tesla Model S

Crushes Large Luxury Car Competition In USA
April 22nd, 2018 by Zachary Shahan
SNIPPET 1:
In July of 2017, I put together a comparison of Tesla Model S sales and other large luxury car sales in the USA. An update has long been due.
The story was very much the same in the first part of 2018 as it was in the first part of 2017. The Tesla Model S sat comfortably at #1 in this category.
SNIPPET 2:
This isn't a blip in history. Rather, it's been the story in the US large luxury car market for years.
Someone new to the topic might wonder why the Model S performs so well and outsells historic giants of the market such as the Mercedes S-Class and BMW 7 Series. Each individual buyer is different, but in aggregate, it seems that would be due to the Tesla's superior performance, advanced tech (esp. Autopilot), smooth and fun electric driving experience, convenient home charging, attractive design, superb safety (top of the market), and zero emissions. However, we don't have any definitive research on the matter, so we're left to speculate based on anecdotes and some consumer research.
Tesla Model 3 Following Suit
Full article with more eye opening graphics:
https://cleantechnica.com/2018/04/22/tesla-model-s-crushes-luxury-car-competition-in-usa/