Posted by: AGelbert
« on: June 01, 2018, 08:08:14 pm »
Alas for me, I need to know how it works as well, but this is just a discussion and exchange of ideas, not argument I hope.

To Agelbert, I will describe two people to show what I believe in both grace and personal will, maybe even karma, without prayer or anything being miraculous.

About a month ago, I was stopped at a red light at a pedestrian crossing on a busy main road at 3.45pm. There was only one person crossing, an Indian schoolboy about 12 years old. He was slouched against the pole. I had been stopped for a while, about 5-10 seconds, when BANG!!! the car beside me had been hit from behind so hard it jumped right across the intersection. It was a very small and light car, an early 90s model ford, driven by immigrant collecting childten from school, but less than a ton.

The car that hit it must have not even slowed or braked, but stopped dead, a larger, modern car driven by a white middle age woman who was in a daze. I guess thats the physics of the impact.

But the amazing thing is that the boy had not crossed the road. I am sure I had been stopped long enough that the green walk signal should have been on. I was on the left lane and the car beside me that got hit was in the right lane, the length of time i was stopped being at least 5 seconds, the boy should have been in front of the car beside me at that moment. Thats what I call Grace.

My anecdote to do with Will involves a motorcycle cop Ive known a long time. On about July last year at about 5am he also ran straight into the back of another vehicle without even braking, but this time the weight advantage was with the stopped Toyota pickup, not the police bike. I think unless you have constant regular work shift at that time, its very hard to be alert. Do a 12 hr shift at that time when your body clock is screaming for shutdown and here is what can happen. Head first, not good.

When I heard of the injuries, coma, brain damage, lost eye, half a head made of metal and leg still in a brace for now, I thought he was better off dead. Yet he has been positive and humerous throughout, now with a great trick of taking out the glass eye.

The numerous surgeons involved said he will not ride motorbikes again, his reply 'bullshit'. After I dont know how many tests of function and like a 17 year had to sit learners drivers test in a car. Now working towards motorcycle when the brace comes off. He refuses to take a desk job, but goes to the station and sits on the parked police bikes. I have no doubt now he WILL do it again, when i thought he was going to only drive a wheelchair with constant migraine, so i count it miraculous. No religion invoked at all, only Will. Karma? I don't know, except that he's spent a long time on suspension. Mean guy? No, opposite. The outpouring of support from literally hundreds of people saying what a humbling inspiration this is, is testament to that.

I agree with you that the kid was saved by God's grace.
About the other fellow, I hear ya. People who just give up die pretty quick. It's good that he has not given up. The will does play a part in human interactions. I agree that is important.
But, I've had too much strange stuff happen to me when my will was working exactly backwards to credit the will above a certain level of cause and effect routine interaction.
The experience was coming back from a movie and stopped at a light (I previously wrote about it here about 5 years ago). There wasn't a car in sight. It was dark, quiet, and the light turned green. I'm not colorblind. I was young and a certified commercial pilot.
I just sat there, thinking nothing in particular. No, I wasn't thinking about the movie. I was pretty much in neutral, watching he green light and the surrounding street intersection darkness. Nobody was talking at the time. I had ZERO distractions. A few seconds went by and my brother in the back seat with his wife, who's will was working normally
, (my wife was in the front seat) said, "It isn't going to get any greener". I said, right, and immediately took my foot off the brake and moved it to the accelerator as a car without headlights streaked a few feet from the front of my car in the road I was about to cross at over 70 mph. Had I moved, we would have all been dead. We were in a 1966 White Toyota Corolla just like the one below: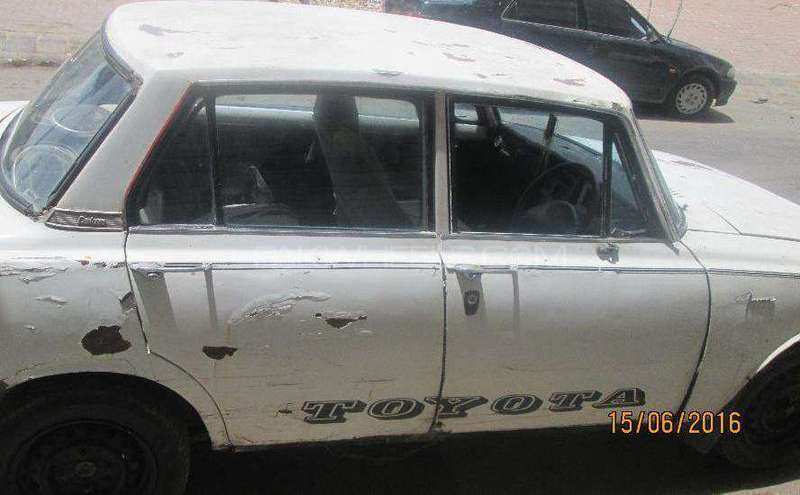 I crept accross the intersection and drove home uneventfully.
We were all deathly quiet the rest of the way home. That car would not have protected us and we all knew it. It's hard to chit chat when your heart is in your throat.
😨
The strength of will was my enemy there. You can call it anything you want that saved four people's arses that night, but I call it God's grace. Mind you, I was an atheist at the time. The kid you observed got his will short circuited temporarily exactly the way mine was.
God or one of His messengers (angel means messenger) does this kind of thing routinely. Materialists have trouble handling it. As an atheist, I just could not figure it out. Eventually, I did.
It is impossible to understand these types of experiences from a mechanistic reductionist perspective which so limits the atheist when confronted with cause and effect anomalies that result in the saving of lives. As Palloy and some others here will probably do from reading this anecdote, I made up lots of excuses and tried to relegate the experience to a "coincidence". That was bullshit. It was no coincidence, but I won't get into a hair splitting back and forth with him or anybody else here who thinks I'm telling tall tales. If they think I'm full of baloney horse hockey, that's their problem, not mine.
The human strength of Will isn't always a plus. Sometimes it is extremely counterproductive.



Paul ain't got nuttin' on me. I am the CHIEF among sinners. So, I have a LOT to be grateful for by Jesus Christ coming into my life. I know how to fly the big jets too. I am confident that I will never use my dastardly skills to kill. But you never know. Being a Christian is a daily struggle, not for the feint of heart. I am NOT a nice guy. My good works behavior and willingness to forego revenge for the evil visited on me and many fellow humans for Christ is the result of God's grace, PERIOD.





These threads just wear me out, and I tend to give them a wide berth. But scanning this, AG's words resonated.

God's grace plus a big dose of humility born of self-reflection, IMO.

You do well to give credit to Grace, but sell yourself short, I think, for your walk.

But then whathtefuck do I know?

You know enough to honestly comment with your heart as well as your head.
Nobody can ask for more. Thank you.